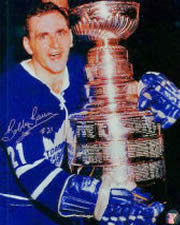 Bob "Bobby" Baun was born in Lanigan, Saskatchewan, September 9, 1936. Baun started with the Toronto Marlboros and then was assigned to the American Hockey League's Rochester Americans.
He was brought up to the Leafs for the 1956-57 season. He played 11 seasons with the Leafs and won Stanley Cups in 1962, 1964 and 1967.
Bobby Baun's playoff heroics are what the Stanley Cup is all about, he played in the 1964 series against Detroit, took a shot off his ankle from Gordie Howe which broke it, however he continued to play and forced game 7, he played injured and won the Stanley Cup.
Baun was picked by the Oakland Seals in the 1967 Expansion Draft. After only one season in California, he asked to be traded back to one of the Original Six teams and the Seals complied, dealing him to Detroit, where he played for three years.
Finally, he came back to the Leafs in 1970-71 and played until 1972-73.
He coached the Toronto Toros of the WHA in 1975-76. Baun ended up playing in 964 games, scoring just 37 times but adding 187 assists for 224 points, not to mention 1493 penalty minutes. He added 3 goals and 15 points in 96 playoff games.