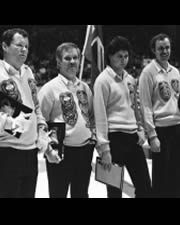 Skipped by Ed Werenich, this curling team dominated in all levels of curling winning provincial and national titles and capping off their team record with World Championships in 1983 and 1990.
Skip: Edward "the Wrench" Werenich
Ed Werenich was born in Benito, Manitoba in 1947. After he finished school Ed moved to Toronto and joined the fire department where, in addition to his commendable duty, he won National Firefighter and Ontario Curling Championships. Known as "the Wrench", Ed became one of curling's most flamboyant and exciting players, sometimes being compared to Arnold Palmer of golf, as they both brought their respective sports to the forefront. Mr. Werenich is a member of the Canadian Curling Hall of Fame.
3rd (Vice skip): Paul Savage
Paul as born in Toronto, Ontario in 1947, Paul is possibly the best left handed curler ever in the game. He established himself early as an extraordinary player and skipped his own rinks to many provincial and national titles. Mr. Savage is a member of the Canadian Curling Hall of Fame.
2nd: John Kawaja
John was born in Chandler, Quebec in 1961. After moving to Ontario at an early age John Kawaja, over the years, has become known as one of the premier curlers in the country. He has skipped many of his own title winning teams but many say that he became the link that tied the Werenich World Championship team together. Mr. Kawaja is a member Canadian Curling Hall of Fame.
Lead: Neil Harrison
Neil was born in Peterborough, Ontario in 1949, A career Fire Fighter Harrison began curling at age 12, and has become recognized as an outstanding curler in his own right and has teamed with Ed Werenich winning many National Fire Fighter titles, provincial and national championships and instrumental as lead curler in the winning of the Worlds Curling Championship.; Mr. Harrison is a member of the Canadian Curling Hall of Fame.