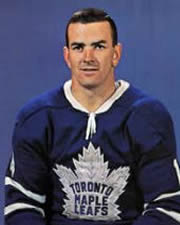 Dave Keon was born on March 22, 1940 in Noranda, Quebec. A clever skater and stick handler, Keon left St. Michael's College to play professional hockey and joined the Toronto Maple Leafs for the 1960-61 season, scoring 20 goals to win the Calder Cup as the NHL's rookie of the year. Keon won the Lady Byng Trophy for combining excellent play with sportsmanship in 1962 and 1963.
Keon won four Stanley Cups with the Leafs in 1961–62, 1962–63, 1963–64, and 1966–67. He was named MVP in the 67 playoffs and hardly ever took penalties.
He was the Leafs' leading scorer in the 1963–64, 1966–67 and 1969–70 seasons and the team's top goal scorer in 1970–71 and 1972–73. Keon was considered one of the fastest skaters in the NHL and one of the best defensive forwards of his era. He was named team captain on October 31, 1969, succeeding George Armstrong.
Keon ended his career with the Hartford Whalers in 1981-82. He scored 986 points on 396 goals and 590 assists in 1,296 regular season games and added 32 goals and 36 assists for 68 points in 92 playoff games.
Dave Keon was inducted into the Hockey Hall of Fame in 1986.