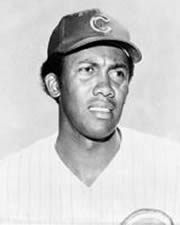 Ferguson Arthur "Fergie" Jenkins, (born December 13, 1942 in Chatham, Ontario) is a former Canadian right-handed pitcher in Major League Baseball. He was a three-time All-Star, winner of the 1971 Cy Young Award, and was inducted into the Baseball Hall of Fame in 1991.
Jenkins spent the majority of his career playing for the Chicago Cubs. He also had stints with the Philadelphia Phillies, Texas Rangers, and Boston Red Sox. An outstanding all-around athlete, Jenkins also played basketball as a member of the Harlem Globetrotters.
Jenkins made his major-league debut as a 22-year-old in 1965 as a relief pitcher. Jenkins would become one of the best pitchers in the majors. In his first full year as a starter for the Chicago Cubs (1967), Jenkins recorded twenty wins while posting a 2.80 ERA and 236 strikeouts. He finished tied for second in the Cy Young Award voting, following Mike McCormick of the San Francisco Giants. He was also selected for the All-Star Game for the first time that season. The following year his numbers improved; once again he won twenty games, his ERA dropped to 2.63 and his strikeout total increased to 260. Jenkins established a reputation for achieving his pitching feats and his statistics while spending most of his career pitching in a "hitter's ballpark"—Wrigley Field in Chicago.
Jenkins had his best season in 1971, playing in the All-Star Game, finishing seventh in MVP voting and winning the National League Cy Young Award. He did this despite the fact New York Mets pitcher Tom Seaver had a higher winning percentage, fewer losses, fewer hits allowed per nine innings, more strikeouts, more strikeouts per nine innings, more shutouts, and a lower earned run average than did Jenkins. It is generally conceded that Jenkins's accolades for 1971 (arguably Seaver's best season) were in recognition of his amazing pitching performances of the previous four seasons. Jenkins won 20 games or more and struck out more than 200 batters each of these seasons, while averaging 305 innings pitched and throwing 87 complete games (16 of them being shutouts).
Jenkins was the first Cubs pitcher and the first Canadian ever to win the Cy Young Award. He received 17 of 24 first place votes. Jenkins also posted a .478 slugging percentage, hitting six home runs and driving in twenty runs in just 115 at-bats. That season, Jenkins threw a complete game in 30 of 39 starts and received a decision in 37 of them, finishing with a 24–13 record (.649). He walked only 37 batters versus 263 strikeouts across 325 innings.
Jenkins led the league in wins twice, fewest walks per 9 innings five times, complete games nine times, and home runs allowed seven times. His streak of six straight seasons with 20 or more wins (1967–1972) is the longest streak in the major leagues since Warren Spahn performed the feat between 1956 and 1961.
Ferguson Jenkins was honored alongside the retired numbers of the Chicago Cubs in 2009.
In 1974 Jenkins, then with the Texas Rangers (who had acquired him from the Cubs the previous off-season for two players, one of whom was future four-time batting champion Bill Madlock), became the first baseball player to win the Lou Marsh Trophy, an award given annually to Canada's top athlete (he won a career-high, and still a Rangers franchise record, 25 games). He was also named the Canadian Press male athlete of the year four times (1967, 1968, 1971, and 1974).
Jenkins was inducted into the Canadian Baseball Hall of Fame in 1987, and in 1991 became the first Canadian ever elected to the Baseball Hall of Fame in Cooperstown, New York. The 1991 Major League Baseball All-Star Game was dedicated to Jenkins; he threw out the ceremonial first pitch to conclude the pregame ceremonies. He was inducted into the Texas Rangers Hall of Fame in 2004. Jenkins has been inducted into Canada's Walk of Fame. On December 17, 1979, he was made a Member of the Order of Canada for being "Canada's best-known major-league baseball player". On May 3, 2009, the Cubs retired jersey number 31 in honor of both Jenkins and Greg Maddux.