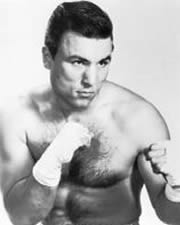 George (Louis) " Boom Boom" Chuvalo was Canadian heavyweight champion as both an amateur and a professional, and twice fought for versions of the professional world's heavyweight title.
Chuvalo turned professional in 1956, knocking out four opponents in one night to win a heavyweight tournament held by former world's champion Jack Dempsey at Maple Leaf Gardens, April 26, 1956.
George is best known for his two fights against Muhammad Ali. He went the distance both times, in each case losing the decision by a wide margin on the scorecards. The first fight, on March 29, 1966 would have been for Ali's world title but boxing politics caused it to be staged as "a heavyweight showdown" instead, although it was scheduled for and went the fifteen round championship distance. "He's the toughest guy I ever fought", said Ali of Chuvalo after the fight. Ali's cornerman,Angelo Dundee, said, "He never stopped coming on … you've got to admire a man like that." The second Ali fight was in 1972 and went twelve rounds, with Ali winning an easy decision. It was the last major fight of Chuvalo's career.
His biggest victories were a seventh-round knockout of contender Jerry Quarry December 12, 1969, and an eleventh-round knockout of contender Doug Jones on October 2, 1964. Chuvalo was the number one contender for the British Empire heavyweight title for many years but champion Henry Cooper did not fight him.
He was never knocked down in ninety-three professional fights, including bouts with Joe Frazier and George Forman, between 1956 and 1979. He is often considered to have had the greatest chin in the history of boxing.
Chuvalo became Canadian amateur heavyweight champion in May 1955, defeating Winnipeg's Peter Piper with a first-round KO. Chuvalo finished his amateur career with a 16-0-0, all by KO within four rounds.
George was born in Ontario, September 12th, 1937 and grew up in The Junction district of west Toronto. While a student at Humberside Collegiate, he became one of the best-known amateur boxers in Toronto, fighting out of the Earlscourt Athletic Club.
Chuvalo was inducted into the Canadian Sports Hall of Fame in 1990 and the World Boxing Hall of Fame in 1997. He was made a Member of the Order of Canada in 1998 and was awarded a star on Canadian Walk of Fame in 2005.