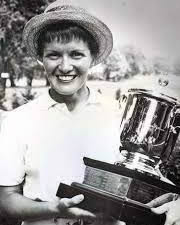 Marlene Stewart Streit, (born March 9, 1934) is a golfer and member of the World Golf Hall of Fame.
She was born in Cereal, Alberta. She learned golf from Gordon McInnis Sr. at the Lookout Point Golf Club in Fonthill, Ontario.
She is the most successful Canadian amateur female golfer, and the only golfer to have won the Australian, British, Canadian and United States Women's Amateur Golf Championships. She graduated from Rollins College in 1956, and won the NCAA Women's championship that year.
Marlene Stewart Streit was a member of the Canadian team at the World Amateur Golf Team Championships in 1966, 1970, 1972, and 1984.