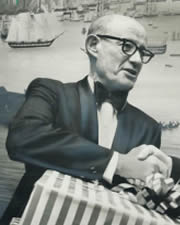 Milt was a Canadian sportswriter, joining The Toronto Star in 1942 and becoming sports editor in 1949. He wrote on almost all sports during his career, which lasted more than fifty years. In the 1990s, he was still writing three columns per week until the age of 94. Dunnell covered the Olympic Games from 1952 through 1968. He also wrote extensively on Stanley Cup, Grey Cup and Kentucky Derby events as well as baseball (long before the Blue Jays arrived in 1977). Born in St, Marys, December 34th, 1905, Dunnell entered journalism with the Stratford Beacon Herald in the 1920s. Milt died on January 3, 2008 at the age of 102.
Dunnell received the Elmer Ferguson Memorial Award in 1984 being honoured by the Hockey Hall of Fame. In 1988 he received the Jack Graney Award for his contribution to baseball in Canada.
Dunnell was inducted into the Canadian Horse Racing Hall of Fame and the Canadian Sports Hall of Fame in 1991. The city of Toronto named a baseball diamond after Dunnell on June 10, 2006, at Bond Park , in a ceremony that he was able to attend.