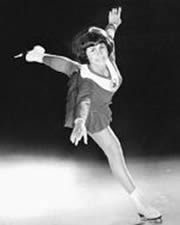 Petra was the Junior Canadian Skating Champion in 1961 and the Senior Canadian Champion between 1964-1966.
In 1965 she won the World Figure Skating Championships, the first Canadian to win the event since Barbara Ann Scott in 1947. She represented Canada at the 1964 Olympics and won the bronze medal. She was also two times bronze medalist at the World Championships. Burka is credited as being the first woman to land a triple jump, a triple salchow at the 1965 Canadian Championships. Her other achievements were winning Canada's Outstanding Athlete of the Year in 1964 and twice winning Canada's Outstanding Female Athlete of the Year in 1964 and 1965.
Since her retirement Petra became a successful coach and figure skating commentator.
Petra was born in Amsterdam , November 17th 1946 and came to Canada in 1951.