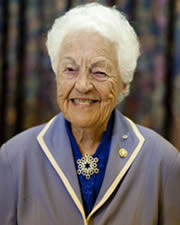 Hazel McCallion, businesswoman, politician and mayor of Mississauga from 1978-2014.
One of Canada's longest-serving mayors, McCallion led her city for 12 consecutive terms, only retiring at age 93. Nicknamed "Hurricane Hazel" for her brash political style, she oversaw the development of Mississauga from a semi-rural bedroom community into the sixth-largest city in Canada. McCallion is considered a trailblazer for women in politics.
Under her leadership, Mississauga grew from a collection of small towns and farmland, as the population nearly tripled and the rapid pace of development transformed the area. McCallion recounted that in the early days of her mayoralty, she could look across the street from the old city hall and see "cows and horses grazing in the field." Mississauga's new city hall — an award-winning feat of postmodern architecture —opened in 1987.
Since her departure from politics, she has been appointed chancellor of Sheridan College and special advisor to the principal of the University of Toronto Mississauga. McCallion has also become an outspoken advocate for seniors, and against discrimination towards the elderly.