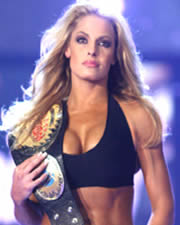 Trish Stratus is a fitness icon, entrepreneur and actress. Recognized as one of WWE's all-time greats, Trish is a seven-time Women's Champion and was inducted into the WWE Hall of Fame in 2013.
Trish has dedicated her life to health and fitness and upon retiring from WWE, she parlayed her success and passion into her fitness lifestyle brand, Stratusphere. In 2010, she launched a line of retail products which includes yoga and fitness equipment and a line of fitness DVDs. She further expanded her offerings with a line of wellness teas.
Trish lives in Toronto with her husband and high school sweetheart Ron, and their two children Max and their newest addition, Madison.
For more on Trish visit www.trishstratus.com or follow her on social media @trishstratuscom.