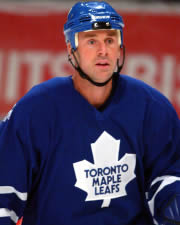 It certainly didn't take Joe Nieuwendyk long to make his mark in the National Hockey League and start his procession to the Hall of Fame.
A second-round draft pick, 27th overall, of the Calgary Flames in 1985 while he was playing at Cornell University, where he was a two-time All-American, he played his first full NHL season in 1987-88 and proceeded to score 51 goals and earn 92 points, which predictably earned him the Calder Trophy as the top rookie in the league.
To put his numbers into perspective, Nieuwendyk became just the second NHL player to score 50 goals in his first season. The only other to do it at the time was New York Islanders superstar Mike Bossy.
Not a bad start and it only got better.
In his second season, the big centre, who was raised in Whitby, Ontario, once again scored 51 goals and capped the year off with the franchise's only Stanley Cup win, coming against the Montreal Canadiens.
Nieuwendyk went on to become the Flames captain a few seasons later.
Knee injuries had an impact on his career at various stages. Contract issues ultimately led to him being traded in December 1995 to the Dallas Stars, for a package that included a future Flames captain named Jarome Iginla.
While he still battled injury issues with the Stars, the big centre still had his success in Dallas. Indeed, in 1999 he was a big reason why the Stars won their first Stanley Cup. With six game-winning goals in the post-season, Nieuwendyk was also named the Conn Smythe Trophy winner, as most valuable player.
A third Stanley Cup win would come a few seasons later, in 2003, this time with the New Jersey Devils, though he was injured again during the final.
Nieuwendyk played a season with the Toronto Maple Leafs and parts of two seasons with the Florida Panthers before health problems forced him to retire.
But the final numbers were impressive: three Stanley Cup wins, 564 goals and 562 assists in 1,257 regular-season games. He added another 66 goals and 116 points in 158 playoff games. Talk about a big-game player.
He was also a member of Canada's gold-medal winning team in the 2002 Winter Olympics.
Post playing days, he served as a front-office adviser with the Leafs and Panthers and was general manager of the Stars from 2009 to 2013. Just recently he was hired by the Carolina Hurricanes as a pro scout and adviser.
In 2011, Nieuwendyk was inducted into the Hockey Hall of Fame.
Last March, Nieuwendyk had his number 25 raised in Calgary as a member of the Forever-a-Flame club.
"When I tell (my kids) about playing for the Flames and living in Calgary it's simple: I tell them they were some of the best years of my life," he said that special night. "Obviously, winning that Cup (in 1989) was special, but bigger than that was the feeling we had in this city, in this organization…it was a really neat feeling."
In addition to being a superb hockey player, as a kid he was also one of the top lacrosse players in the country.