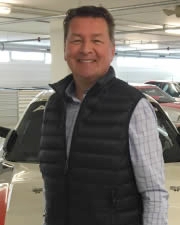 Scott Goodyear never had any doubt what he was going to be. The kid loved being behind the wheel of a car, and he loved going fast.
After racking up a number of go-kart titles, Goodyear turned professional in the early 1980's, quickly graduating to Formula Atlantic Racing. In his only season in this Indy Car backed open-wheel series, Goodyear roared to the championship, winning 5 of 9 races. He capped off a sensational campaign with a 3rd place finish in the 24 Hours of Le Mans, and was named Canadian Auto Racing's Driver of the year.
The following year Goodyear graduated to the Cart series. It took a couple years to find his way, but once he signed with Walker Motorsports, his career took off.
At the same time, the busy native of Willowdale found a ride in the Rothman's Porsche Turbo Cup Series. Piloting the Pfaff Motors Pop-84 Porsche, Goodyear manouvered his way to yet another series title.
His first Cart victory came at Michigan in 1992. That same year at the Indy 500, after a mechanical problem dropped him to dead last, 33rd on the starting grid, Goodyear put together a run for the ages. He wove his way from the back of the pack, into 2nd place, losing the race by just 4-100ths of a second to Al Unser Junior. Among the all-time greatest feats in Cart history. He was denied another Indy 500 title 3 years later, when he inadvertently passed the pace car, and in 1997, he was passed on the final lap and had to settle for 2nd, once again.
Injuries took their toll on this fearless driver, and following a crash at The Brickyard in 2001, he was forced into retirement.
Today, Goodyear works as a racing analyst for ABC and ESPN and he resides with his wife and children in Carmel, Indiana, not far from the site of many of his most thrilling moments behind the wheel of a race car.