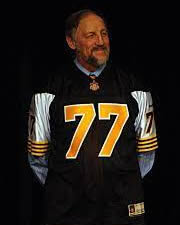 A native of Burlington, Tony Gabriel starred as a 2-sport athlete in high school. A 6'4 forward who led his Burlington Central High Basketball team to the provincial Championship. As a senior, he once scored 48 points in one game, single-handedly outscoring the opposition on that night.
But it was on the gridiron, where the BCHS Athlete of the year really made his mark. While playing for the high school squad, Gabriel also played for the Junior Burlington Braves. He was scouted by a number of American Colleges and decided to follow his scholarship opportunities at Syracuse University where he played split-end for coach Ben Schwartzwalder.
After a very successful College career, Gabriel turned professional, with the Hamilton Ti-Cats, his home-town team. In his 2nd season as a pro, the lanky receiver caught 49 passes for 733 yards and 3 touchdowns and helped lead his team to a Grey Cup Title over Saskatchewan. But he was just getting started
In 1974, Gabriel joined the Ottawa Roughriders, and it was there, catching passes for fellow Ontario native Russ Jackson, that his career really took off.
5 times over the next 7 years, he hauled in over 1 thousand yards in passes per season. He caught the game winning pass in the 1976 Grey Cup, for his 2nd title.
In 1977 and 1978, Gabriel led the league in reception yards with 1320 and 1362 respectively. Also, in 1978 he won the Schenley Award as the CFL's Most Valuable Player. It would take 35 years for another Canadian to turn the trick.
4 times he was named the League's top Canadian, and he was an All-Star in 9 of his 11 pro seasons. Gabriel suffered a knee injury in the 1981 Grey Cup game and was forced into retirement.
He was inducted into the Canadian Football Hall of Fame in 1986 and is still listed among the top receivers of all time.