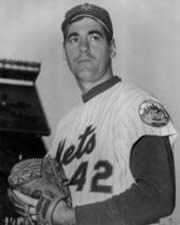 Dr. Ron Taylor was born December 13, 1937 in Toronto, Ontario. At 18, he left high school to begin a 16-year career as a pitcher. He negotiated with the Cleveland Indians to miss spring training for five years to finish high school and earn a degree in electrical engineering.
He didn't suffer from missed training; Taylor was a relief pitcher in two World Series, helping to garner wins for the St. Louis Cardinals in 1964 and the New York Mets in 1969. He worked as an engineer in the off seasons.
He appeared in 491 games during his major-league career, pitching nearly 800 innings. He finished with a record of 45 wins, 43 losses, and 72 saves, while compiling an earned run average of 3.93. Taylor ranked among the top-ten in appearances and saves for National League pitchers four times.
Following his playing days he returned to school to complete a medical degree at the University of Toronto in 1977.
In 1979 he was appointed the Toronto Blue Jays team physician, a position he still held when inducted into the Ontario Sports Hall of Fame in 2010.
As well, in 1980, with a grant from the Syd Cooper Family Foundation, he helped to establish the S.C. Cooper Family Sports Medicine Clinic at Toronto's Mount Sinai hospital.
Dr. Taylor has his own practice in Toronto.