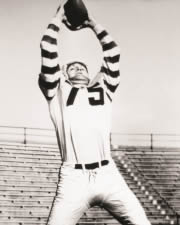 William Francis "Zeke" O'Connor, Jr. (born May 2, 1926) is a retired American football end who played five seasons in the All-America Football Conference (AAFC) and Canadian Football League (CFL) in the late 1940s and early 1950s.
A late-game touchdown catch by O'Connor helped the Argonauts win the Grey Cup in 1952.
After his playing career, and served as the color commentator for Grey Cup broadcasts from 1956 to 1981. He became friends with the famed mountaineer Sir Edmund Hillary and helped establish a foundation in his name to benefit Sherpas in Nepal.
O'Connor started the foundation and was its president for more than 30 years, helping build schools and hospitals in Nepal. He also introduced Nepal to the Special Olympics, an athletic competition for disabled adults. His daughter Karen took over the foundation in 2008. O'Connor published a memoir in 2012 called Journey with the Sherpas: The Story of Zeke O'Connor and the Sir Edmund Hillary Foundation.