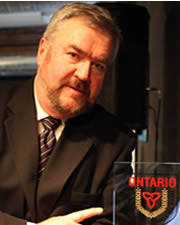 Dave Perkins was born Midland, Ont, in 1953. Dave moved to Toronto 1958, so he actually well remembers both the baseball Maple Leafs and when the hockey Maple Leafs did things like win Stanley Cups. Dave attended Ryerson Journalism and began working at Globe and Mail in 1973.
In the summer of 1977 he moved to The Toronto Star, possibly in part because the Star softball team needed a right-handed hitting catcher. He began covering baseball full time in 1985 and was made baseball columnist in 1989, then sports editor from the end of 1993 until middle of 1996, at which point he became general sports columnist.
Over the years, assignments have included 10 Olympic Games, 55 (and counting) golf major championships, a couple of dozen World Series and Super Bowls, many NHL, NBA playoffs and Grey Cups. Dave took over the Sportsman's Corner of The Star Santa Claus Fund in 2001 from an ailing (at the time) Jim Proudfoot. Renamed it Proudfoot Corner on his death and has raised more than $1 million in his name for kids' Christmas gift boxes, strictly on donations from readers. Dave retired from The Toronto Star in 2010, but continues to write a weekly column on freelance/contract basis. Dave married Debra Hanna in 1988 and has a 17 year old son named Allan.